Learning Spanish and Horseback Riding in Andalucia
On horseback in the natural park "Sierra de Grazalema" you will discover a different landscape behind every corner with sprawling hills, fields, pastures or olive groves, stark limestone mountains, where only goats and vultures live, and vast cork oak forests with half-forgotten paths. Under the direction of Conny our trail rides take you to beautiful places where you are so close to nature that you leave all your worries behind.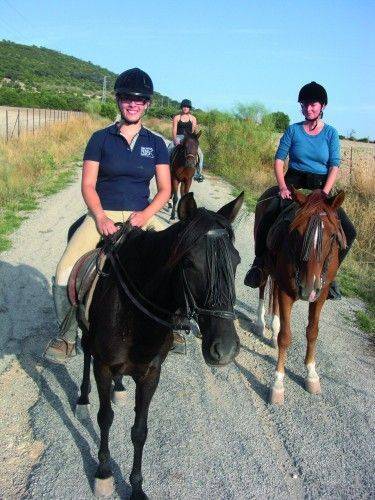 The 2-week package includes, besides the Spanish course of 20 hours per week, 2 two-hour rides in the afternoons after the Spanish class and a five-hour trail ride on the Saturday to the salt mines of Prado del Rey that were built by the Romans using the water of a salty source. On the horseback we will cross the border between the two Natural Parks "Sierra de Grazalema" and "Los Alcornocales" and ride through fields and a vineyard. At lunch time we will have a picnic with local products on a nice and shady place under the cork oaks next to the salt works.
This riding program is suitable for riders with riding experience, who are confident in all three gaits and do not weigh more than 80 kg.
Please bring appropriate footwear for riding. Helmets can be hired at the horseriding farm.
The package price includes:
Intensive Course (20 lessons per week)

Accommodation in a double room in a shared apartment

Horse riding programme

Accident and liability insurance

Entry level test on the first day

Certificate of attendance

Selection of Spanish films and books

Free WiFi in the school building and the café on the ground floor

Welcome tour through Prado del Rey
Price per person
Spanish intensive course + accommodation in a double room in a shared apartment + riding programme
€ 650
You can start this programme every Sunday if the riding center has free capacities in the desired period. Please enrol for this programme early enough, at least 4 weeks before or send us a booking request.
You can upgrade to additional options regarding the course and the accommodation according to the following price list.
Supplements per person per week
Superintensive course
€ 80
Intensive plus course
€ 95
Superintensive plus course
€ 190
Single room in a shared apartment
€ 45
Single room in a Spanish host family with half board
€ 155
Single room in a Spanish host family with full board
€ 205
Single private apartment
€ 150
Is the riding programme suitable for children and teenagers?
Children from the age of 8 years and teenagers up to 14 years can take part in the riding programme with the consent of their parents if they are accompanied by a parent or guardian during their stay (not necessarily when riding). Teenagers from 15 years old can participate in the riding programme without being accompanied by their parents with their written consent. The recommended accommodation for teenagers is in a host family with full board. We choose the host family carefully with the help of a questionnaire which we send you after the enrolment.