Hello Spanish teacher!
Do you want your students to put into practice the Spanish they have learnt over the school year and are you looking for a special group trip for your students to Spain?
This Spanish language immersion program is designed for school groups from 15 years old, accompanied by their teachers or chaperones, who are looking for an authentic and unforgettable experience. Below is a brief description of our program.
The Pradoventura Language School
We are Anja Dibbert and José Luis Garrido, both passionate about languages. We founded the school in 2004 and since then we have been  leeding it with heart and soul. We like to be a link between cultures and languages and that is why we put all our efforts into bringing our students closer to the language, culture and way of life of Spain. We create a family-like atmosphere where each student feels welcome and valued. Our location in Prado del Rey, one of the White Villages of Andalusia in the Sierra de Cádiz, allows us to carry out language immersion programs in an authentic Spanish environment without the influence of mass tourism. We are supported by our Town Hall and many inhabitants offer themselves as host families as they love the cultural exchange with foreign students.
The school is located in the pedestrian area of Prado del Rey. In the building we have 4 classrooms, equipped with whiteboard and music player, big screen TV, and a fifth outdoor classroom with views of the Sierra and protected from the sun by a pergola. On the ground floor there is a cosy restaurant with a terrace, an ideal place for our communicative breaks.
Customized programs
We do not see ourselves as the classic service provider, but rather as a partner and ally who develops the desired programs together with the teachers. Special wishes of the groups are welcome challenges for us. As your local partner, we are problem-solvers for the group coordinators, always looking for the best solution. There are countless possibilities, we develop unusual programs for our partners such as a language stay in combination with sports and physiotherapy classes.
Our wish is that the groups that visit us get the most out of their stay.
The Spanish courses
We design the course program according to the needs of each group, in contact with their teachers. Our native teachers share the philosophy of the language school and are committed to teaching Spanish through a communicative approach. We cover all the language skills giving priority to comprehension and oral interaction in real situations, integrating activities in the street, at the market, etc. The learning groups are composed of a maximum of 8 students to ensure optimal progress of each one of them.
Activities and excursions
The activities and excursions are a mixture of fun and learning designed in such a way that students have a good time while practicing Spanish and learning about the culture, history and traditions of Spain and especially Andalusia. We are part of the Sustainable Tourism project of the Association of Tourist Companies of the province of Cadiz and have created with other partners unique experiences for students of Spanish including visits, workshops and tastings. If your group has an adventurous spirit and you want to add an exciting incentive, we propose a canyoning activity with professional guides in the natural park.
Accommodation
Staying with carefully selected, open-minded local families has many advantages for students. During the stay they try typical food, learn about habits and customs and share many moments of conversation. Throughout their stay they create a bond of friendship that lasts many times beyond their visit.
Dates
Our immersion programs are available all year round, although from March to October is the most suitable period. We recommend a duration of one to two weeks. The ideal arrival day is a Sunday but are flexible to adapt to other start days and durations.
Prices
Our goal is for each group to have a unique and unforgettable experience. Therefore we do not like standard programs. We prefer to adapt the program totally to the group's tastes and needs and we are open to wishes and proposals. With these data we elaborate several alternatives to choose from, always with a good quality-price relation.
Program
15 hours of Spanish classes per week
Accommodation with a local family with full board
Return transfer between the airport (Jerez, Seville or Malaga) and the school
Program of activities and excursions to choose from
Sample program
Our programs include fun and interactive Spanish classes in and outside the classrooms, cultural and handcraft workshops, flamenco dancing and guitar workshops, tasting sessions of local products, guided excursions to the most impressive towns and cities, adventure outdoor activities, exchange activities with locals and much more. You can combine different alternatives and add your own wishes.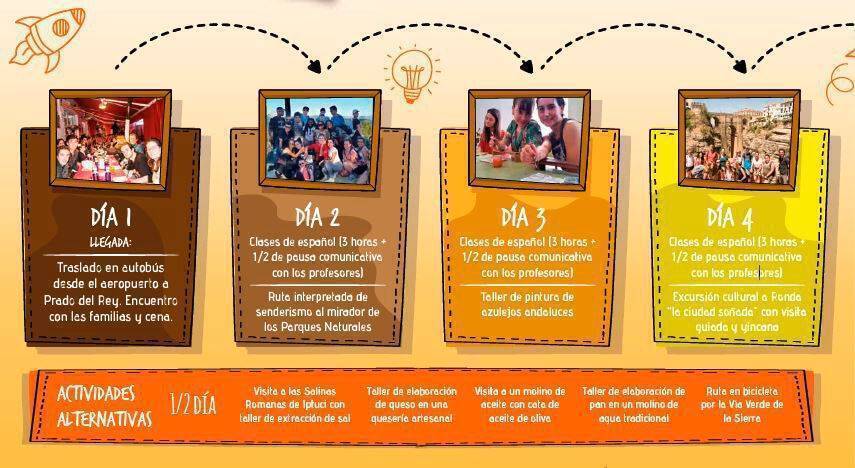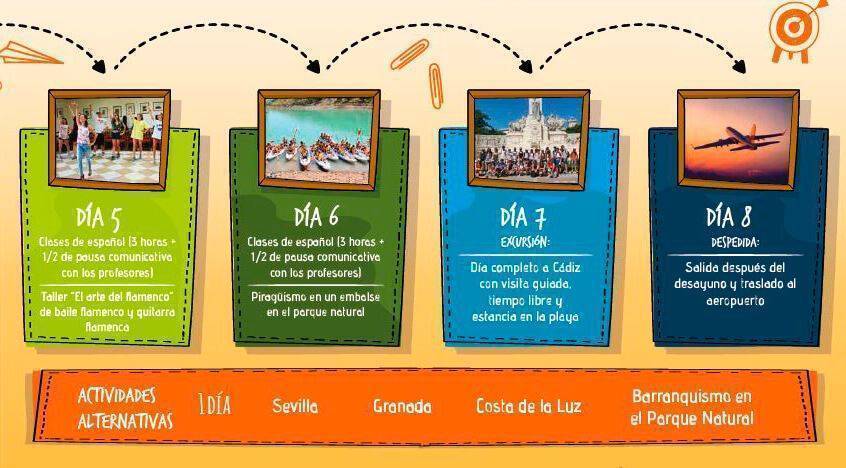 A little more about Prado del Rey
Prado del Rey belongs to the route of the White Villages in the province of Cadiz, in Andalusia, the most southern and sunny part of Spain, where Phoenicians, Romans, Iberians, Moorish and Christians have left their footprints in language, culture, traditions, occupations, food, architecture and the people's mentality. With almost 6000 inhabitants it is a village with a lot of cultural life in the Sierra de Cádiz. In the pedestrian area where the school is located, people gather in the bars and restaurants, the cafes and shops. There are numerous cultural associations that organize events almost all year round. The warmth of the summer is made pleasant by the three summer swimming pools, one of which is salt water. In the evenings the temperature is usually refreshed by the cooling effect of the winds that come to our mountains from the Atlantic or Mediterranean coast. The municipality is located at 440 meters, a short distance from the highest mountain in the province of Cadiz (1654 m) and has direct access to the two natural parks "Sierra de Grazalema" and "Los Alcornocales".
How to get there?
The nearest airports are Jerez, Seville or Malaga. We can put you in touch with specialized travel agencies for groups or make the reservation of the flights for you. For the transfer between the airport and Prado del Rey we have agreements with reliable companies in our area that have a bus, minibus, microbus or taxi van service at competitive prices.
Contact
info(at)academia-pradoventura.com
www.academia-pradoventura.com/contacto
+34 956 724064
Anja Dibbert: +34 666302151
José Luis Garrido Rodríguez: +34 670967159