This weekend we celebrate the Pilgrimage of San Isidro here in Prado del Rey. It is one of the most exciting fiestas of the year where you won't miss music, dancing, drinks, food, polka dots and flowers…
This big feast is celebrated in honor of San Isidro Labrador, the patron of the farmers every year on the Sunday after 15th May. On Saturday afternoon, there is a special Mass and on Sunday morning the procession starts in which San Isidro Labrador carried in a chariot drawn by two oxen along the Granujales path. Behind it, people go on foot, by horse or by carriages and wagons nicely decorated with paper flowers. Women often wear gypsy dresses – pretty flamenco dresses in bright colours and decorated with polka dots, a flower in the hair and big earrings to match the dress. Horse enthusiasts wear their traditional short costume (traje de corto) which also carry the flamenco dancers and bullfighters, by the way. People enjoy music and dancing throughout the day in a festive and rustic atmosphere, sharing drinks and food with neighbors, friends and acquaintances. At noon, mid-way people sing the Salve Rociera to San Isidro, accompanied by drums, flutes, guitars and the women performing the Sevillanas dance. That is the most emotional moment of the day. About two hours later the pilgrimage reaches its destination, the Dehesa de Hortales, a large grassy field with oak trees that provide shade, 7 kilometers from the village. There you eat picnic lunch picnic and you can dance in the marquees or rest below an oak to recharge energy for the way back. In the municipal marquee where an music band plays and the two best carriages are rewarded among the around 100 vehicles that participate. The way back starts on 4 pm and is usually extended until 12 or 1 am. For people who do not want to or are not able to do the way, there is a regular bus service between Prado del Rey and the Dehesa de Hortales.
To get in the right mood there is live music and dancing in the town centre The night before. This year as a novelty these concerts have been organized on different corners of the pedestrian street on Friday night and on Saturday from 3pm.
This is the placard that announces the Romería 2014.
Y aquí la programación.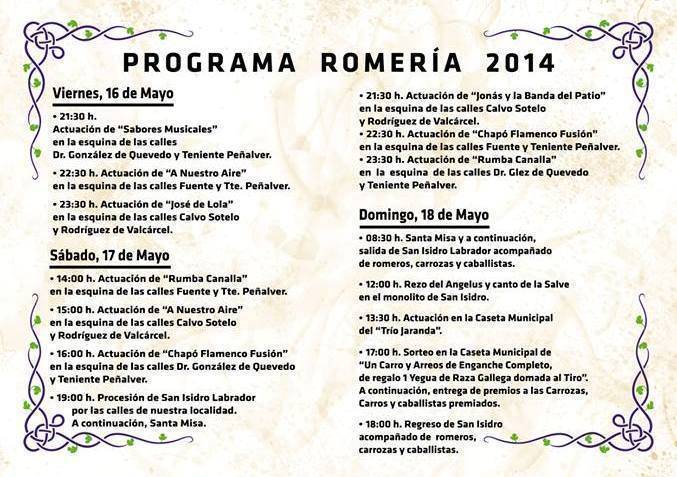 Sending out a big hug to our student Ernesto, an American of Filipino origin, who was doing a Spanish course with us at this time a year ago, we share here some of the photos he took while enjoying the pilgrimage in all its facets. Taken with his cell phone camera the pictures capture very well the atmosphere of this very important feast for Prado del Rey, in Ernesto's words "the most authentic party I've ever had".
Let's see what this year's students say…