Learning how to use the Spanish regular verbs in the present tense is fundamental to communicate in Spanish and you need to know them well before learning the conjugation of the irregular verbs which we will deal with in one of the next posts.
In this videotutorial Irene explains you the three groups of conjugations in which all the regular Spanish verbs can be classified. Pay attention to the pronunciation and the emphasis of the verb forms, too. Further down you will find a conjugation chart with the example verbs and the endings of each group that you can apply to any other regular verb in Spanish. To do so, use the stem of the verb (the stem of "practicar" is "practic") and add the corresponding ending. Once you know the endings the best thing to do is practice, practice, practice.
Want to keep learning Spanish? Sign up for our fun online classes! For more information click here.
We hope you understood Irene's explanation. As in the face-to-face classes in our language school she explains everything in Spanish. This way you learn the grammar and at the same time you train the skills of listening and comprehending the Spanish language. Your mind gets used to thinking in Spanish and building your questions in Spanish. According to our experience and the most relavant scientific studies the use of the target language in the second language class is the most effective method for learning a foreign language.
The following chart will be useful for you in learning to use the endings of the Spanish verbs in the present tense. You can save it and have it always on hand on your mobile phone, on your computer or on paper.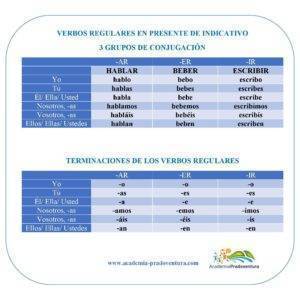 And now it's time for practice!
If you like the post share it with your friends. ¡Gracias!
Authors: Irene Cañas Moreno and Anja Dibbert