On February 28 our language school dressed in color and laughter for the day of Andalusia. All the team members prepared interesting activities so that the students felt immersed in the Andalusian culture, since, starting from our philosophy, we understand that culture is a fundamental part of learning Spanish as a foreign language.
Want to keep learning Spanish? Sign up for our fun online classes! For more information click here.
We started with a brainstorming about Andalusia to know the previous knowledge about this Spanish community. It was very interesting because each student was able to contribute their ideas about the eight provinces and their people. The Spanish teachers explained typical Andalusian words, which was quite useful for students. It was very enjoyable because the students could express their opinions in relation to the Andalusian stereotypes and contrast these with the reality.
In the break we had a great typical Andalusian breakfast, in which we could taste a delicious Spanish omelette "tortilla española" and also a magnificent Andalusian cake as well as molletes, a bread from Moorish origin, with a tasty tomatoes and an exquisite olive oil.
After this wonderful tasting the students found a surprise in the class, the Spanish teachers and the director had dressed in the typical costume of Andalusia to give more color to a magical day.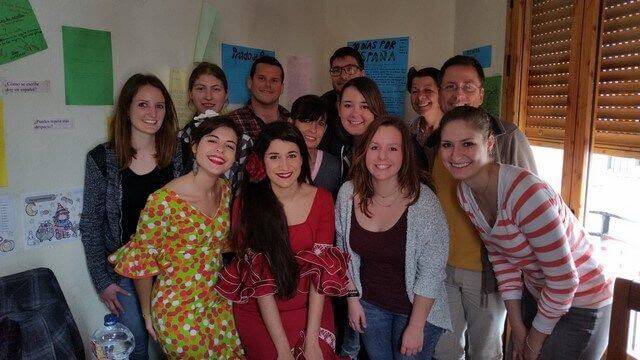 In addition to learning interesting things about Andalusia the students were shown different videos about each of the provinces and they told us which were their favorite places and which of them were included in their future travel plans. We explored the other provinces Sevilla, Málaga, Granada, Córdoba, Almería and Jaén on the website of Andalusia Tourism. Then we showed a video about the province Cádiz, where our language school is located. It gives a insight into the coast and the interior.
Finally and as a finishing touch, we all sang the hymn of Andalusia together.
As much for the students as for the whole team this Spanish class turned out a very gratifying experience since the students could get to know Andalusia in a very interesting and direct form. Through the videos and explanations the students had the opportunity to learn more about the provinces and their festivals and cultures. Our philosophy is that the students learn in a practical way relating content to experiences which become a part of their memories, so that and they will remember more effectively what they have learned.