Today, February 28, we celebrated the Day of Andalusia. As we like to introduce cultural content in the Spanish classes in an enjoyable way, we always prepare a special session for this regional holiday. As good Andalusians, we hung little Andalusian flags in the language school, we put a flower in our hair (we explained to the students that at Andalusian festivals women wear a dress called a gypsy dress and a flower) and we began with the Spanish class dedicated to this day. As it was a special Spanish lesson, we put together both groups of students so that they could live this experience together. We also consider that the students learn from each other and it is interesting that they listen to different opinions about Andalusia and that they contrast these.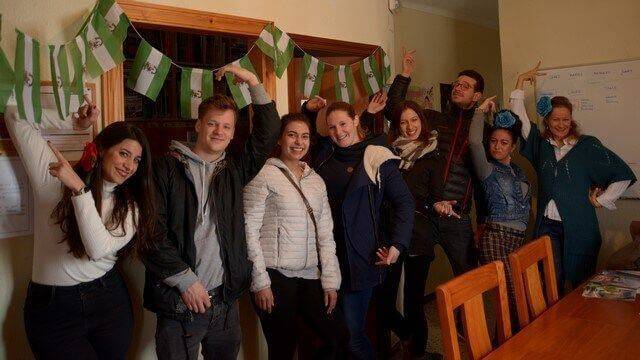 Firstly, we tought them that Andalusia in one of the 19 autonomous regions in Spain and it consists of 8 provinces: Cádiz, Sevilla, Málaga, Granada, Córdoba, Huelva, Jaén and Almería. We talked about the most important cultural elements of each province of Andalusia, such as the Gran Teatro Falla, the beach "La Caleta", the Alhambra, the Sierra Nevada, the Science Park, the Picasso Museum, the Alcazaba Of Málaga, the Cervantes Theater, etc.
Likewise, the students were introduced to important people for the Andalusian culture, such as Federico García Lorca, Picasso, Antonio Banderas or Farruquito, all of them well known in Spain and internationally. Adding also some specific flamenco vocabulary (bailaor, tocaor, cantaor …).
In addition, we have made our students aware of the importance of nature protection in Andalusia since 32% of the area are protected natural areas (national parks, natural parks, etc.). We mentioned two especially protected species that are in danger of extinction: the pinsapo (Spanish fir) and the lynx.
To get deeper into the Andalusian culture, we read in class the poem "Andalucía" by Manuel Machado, an admirable Andalusian poet, in which he symbolically defines each province:
Cádiz, salada claridad
Granada, agua oculta que llora
Romana y mora, Córdoba callada
Málaga cantaora
Almería, dorada
Plateado Jaén
Huelva la orilla de las tres carabelas
y Sevilla …
After making sure that all the students understood the meaning of each line of the poem, we made a brainstorming to define among all the students what Andalusia means to them. Getting terms such as flamenco, sea, wine, red sun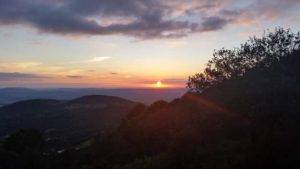 (the red sun probably has to do with the sunset we saw on the hiking tour yesterday), etc.. It was fun!
After that, we asked the students to locate each of the provinces on the map, associating what cultural elements are related to each province. They told us what they have learned while being in Andalusia and what they previously knew.
Finally, we did an activity that we called "Some of the treasures of Andalusia that we recommend you to discover". To carry it out we selected four monuments, places, important persons, traditions or celebrations of each of the Andalusian provinces. We had designed cards with pictures of those elements and asked the students to make an imaginary trip through each Andalusian province, even if it is only on tiptoe. Like that they got to know a little of each of the provinces, its wealth and its treasures. Thus, once the cards were distributed on the table, we asked our students to try to associate each of them with their place of origin.
It was very gratifying, on the one hand, to see how our students recognized many of the pictures, since we had talked about them throughout the session and, on the other hand, how interested they were in those they did not know and had just discovered. The teachers were in charge of transmitting to our students interesting historical, cultural or artistic facts.
At the end of the activity, our students made us aware of their growing interest in touring and visiting the provinces of Andalusia.
It was a very enjoyable session, since everyone participated actively and we interacted a lot. We had planned an additional activity, as we always to in case the lesson flows quicky and there is some time left. In this additional activity the students would have had to creat a poem about Andalusia themselves, working in pairs. Today we did not have any time left for this activity but we are happy with the result of this very nice and relevant class in terms of culture.
To conclude, we went together to have breakfast like every day and as a special touch the owner of the bar played the  hymn of Andalusia for us. We had a great morning.
Want to keep learning Spanish? Sign up for our fun online classes! For more information click here.