In Prado del Rey everything is prepared for the Charity Party tomorrow 23 August 2014 in favour of an old people's home.  We're waiting for you!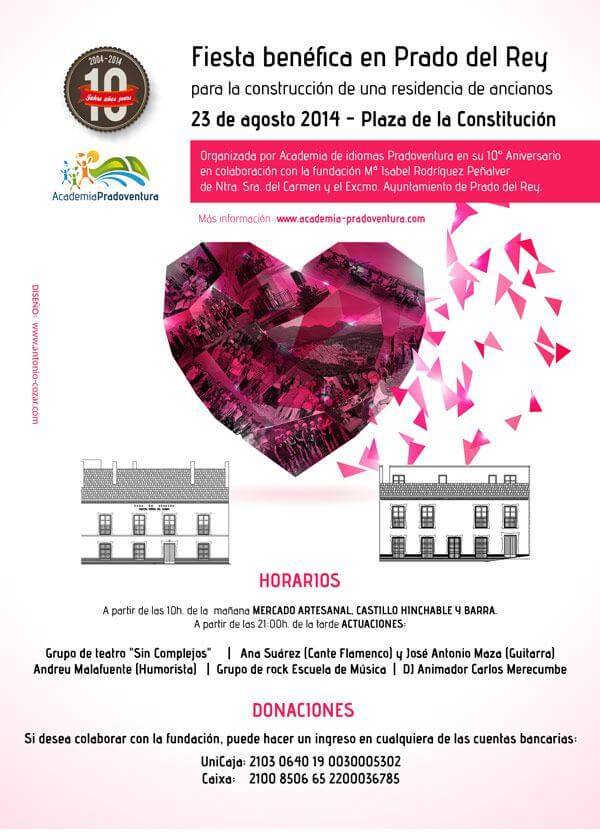 All day from 10:00 am there will be a craft market, a bouncy castle for children, food and drink. The money raised by the sale of food and drink will be for a better future of the elderly. There will be delicious food prepared by the members of the foundation María Isabel Rodriguez Peñalver de Nuestra Señora del Carmen: Canapés, Spanish omelette, fried peppers, gazpacho, etc.
At night we have a varied program of attractive performances:
21:00 – 21:30 Comedian "Andreu Malafuente"
21:30 – 22:30 Theater group "Sin Complejos"
22:45 – 23:30 Flamenco singing and guitar "Ana Suárez and José Antonio Maza"
23:30 – 00:15 "Rock group of the Music School"
00:15 – 01:00 "Dance animation with DJ Carlos Merecumbe"
The newspaper "La Voz de Cádiz" announces the party in today's edition.  http://www.lavozdigital.es/cadiz/v/20140822/sierra/velada-benefica-para-recaudar-20140822.html
To get further information about the foundation María Isabel Rodríguez Peñalver de Ntra. Sra. del Carmen or to become a member its chairman Juan Mariscal is available on the number +34608857546.
For us organizing this charity party for a better future of the elderly of Prado del Rey and the surrounding villages, on the 10th anniversary of Academia Pradoventura is a wonderful task. We hope that many people come to spend a good day and help with this project.