We go on with the interviews that our associates from an agency that represents our courses abroad during their visit. Today it is Marina Castillo's turn.  You can see the interviews with Irene Cañas and Ángeles Guerrero in the previous blog posts. We hope that Marina's answers and tipps for learning languages are useful for you, whether you have been in class with her or you are going to take a Spanish course at our school soon.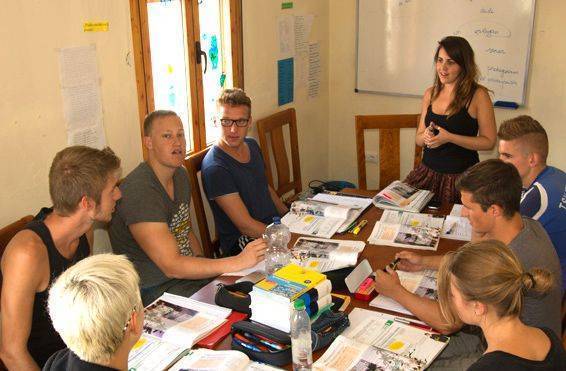 1. How long have you been teaching Spanish?
I have been teaching Spanish for a year and a half. I began to teach Spanish abroad, particularly in France. Then I returned to Spain to complete my education with a master degree and to gain practice teaching more Spanish classes. I worked in the Academia Pradoventura during last summer season and I really look forward to teaching here again this summer after finishing the master.
2. Why to learn Spanish?
Spanish is the second most spoken language in the world. Almost all of us know  English, so now it's the turn of Spanish. Leaving aside the statistics, I must say that Spanish is an excitinglanguage, full of surprises and curiosities. Also, knowing Spanish gives you the opportunity to communicate with many people from different countries, here and across the pond.
3. What do you like about teaching Spanish?
What I like best about teaching Spanish are my students. As a teacher I have a methodology and a way of teaching and transmitting knowledge, but nothing would be possible without the students. The beauty of teaching is to adapt to a student or a group of students depending on their needs and difficulties. It is also very satisfying for me to contribute to the learning progress and to see how the students evolve and how they change or improve.
4. What do your students most value in your classes and at the language school?
The classes are very small and the language school is very family-like. This creates a unique work environment in which teachers, students and the management team are at the same level, so that both teaching and learning are truly enjoyable. At the school we try to do dynamic and fun classes where all the students participate and feel comfortable.
5. Can it be easy and quick to learn a new language?
Learning a new language, whatever language it is, is not very easy in the sense of laying back and learning without doing anything, but it requires perseverance and patience. At the same time it always depends on the students and their needs, and also on the reason that leads them to learn the language. It's not the same, to learn Spanish in order to use it in business where some perfection is needed, as to learn to communicate in a basic way that enables you to understand make yourself understood. In our courses the beginners usually achieve to speak with a certain fluency using basic vocabulary and structures after a month of class.
6. What kind of activities are the most used in your class?
I like to combine different forms of education and recreational activities, reading, discussions, information searches, traditional grammar, etc.. But as I said earlier, I always try to adapt to the group and its interests, as all people do not respond to the activities with the same enthusiasm.
7. What do you like most about your town?
Prado del Rey is a small, friendly village in the Sierra de Cádiz. I'm not from here, I'm from Jerez de la Frontera, so when I work in the Academia Pradoventura I'm also a bit of a "foreigner" in Prado del Rey. People are nice to me, there is a lot of atmosphere and many bars are always open and full of people. Also, as it is a mountain village, nature is present in every corner.
8. What sites do you recommend your students to visit?
When they are here in Prado del Rey, students should get to know both the people and the surroundings. The Sierra de Cadiz and its people are full of charm and the villages are beautiful. I recommend them to go to visit the nearby cities Cadiz, Seville and Jerez de la Frontera and to explore their monuments, streets, parks and museums. On the other hand, the coast is not far away, so they can combine a mountain and beach holiday with a Spanish touch.
Thank you Marina for your interesting answers.